~ Biography~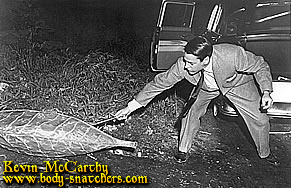 *From Leonard Maltin's Movie Encyclopedia. Copyright © 1994 Leonard Maltin
To many moviegoers, he'll always be the frantic fugitive, pursued by pod people from outer space, who dashes onto a busy highway screaming, "They're here! They're here!" That's the climax of the sci-fi classic Invasion of the Body Snatchers (1956), and it's such a memorable moment that McCarthy has in recent years been hired on other films to spoof his own performance. (He even made a cameo in the 1978 remake, along with the original film's director, Don Siegel.) But his career extends far beyond that. A stage player from Washington, McCarthy earned a Supporting Actor Oscar nomination for his first film in 1951:Death of a Salesman in which he appeared as elder son Biff (a role he played on the London stage). Over the next 10 years he alternated leads in small movies (such as 1956'sNightmare with supporting roles in larger movies (such as 1961's The Misfits in which he's Marilyn Monroe's husband, and 1964's The Best Man).
In recent years, director Joe Dante, an inveterate fan, has cast McCarthy in colorful roles in a number of his films, including The Howling (1981), Twilight Zone-The Movie (1983), Innerspace (1987), and Matinee (1993). He can still be seen both in large-scale theatrical films and made-for-video cheapies, though he takes greater pride, no doubt, in his longrunning stage vehicle "Give 'Em Hell, Harry!" (as Harry Truman). His sister was author Mary McCarthy.
*From Hollywood.com - Celebrity Biographies
Kevin McCarthy Biography
A prolific performer who bridged the divide between leading man of decidedly B-movies and character player in more prestige offerings, Kevin McCarthy has been a working actor since he made his Broadway debut in "Abe Lincoln in Illinois" (1938). The younger brother of famed writer Mary McCarthy, he served in the US Air Force during WWII, toured in "Winged Victory" and reprised his stage role in the 1944 film. But McCarthy earned more attention for what was considered his feature acting debut, the role of the disillusioned son Biff in the 1951 screen adaptation of Arthur Miller's classic "Death of a Salesman". Nominated for a Best Supporting Actor Oscar, the actor seemed poised for a major film career. He marked time though until Don Siegel cast him as Dr. Miles Bennel in the sci-fi classic "Invasion of the Body Snatchers" (1956). As the somewhat hysterical survivor of a community that was infested by space alien pod people, McCarthy anchored the film which has grown in stature since its initial release. (In Philip Kaufman's 1978 remake, the actor had a small but pivotal role that was an homage to the original.) His subsequent film career has included playing Henry Fonda's campaign aide in "The Best Man" (1964), a roller derby magnate in "Kansas City Bomber" (1972) and a smarmy lobbyist in "The Distinguished Gentlemen" (1992).
The stage-trained McCarthy frequently appeared on Broadway throughout his career, notably as Jerry in "Two for the Seesaw" (1959) and Van Ackerman in "Advise and Consent" (1960). He has also scored a personal triumph as President Harry S Truman in the one-man show "Give 'Em Hell, Harry!". But the busy actor has perhaps found the best outlet for his talent on the small screen. A frequent guest actor, McCarthy co-starred with Lana Turner in the short-lived series, "The Survivors" (ABC, 1969-70). He was fine as the wealthy patriarch of a Florida family in the primetime soap "Flamingo Road" (NBC, 1981-83) but fared less well as the romantic interest for Beatrice Arthur in the short-lived sitcom "Amanda's" (ABC, 1983). In 1987, he portrayed Franklyn Hutton, the father of Barbara Hutton (Farrah Fawcett) in the NBC miniseries "Poor Little Rich Girl" while in the 1995 biography "Liz: The Elizabeth Taylor Story" (NBC), he played Sol Siegel and was in turn played onscreen as a character by actor Patrick Robert Smith. McCarthy has showed no signs of retiring, recently playing the chief of staff in the acclaimed HBO movie "The Second Civil War" (1997).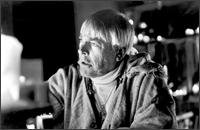 *by Hal Erickson, All Movie Guide
Kevin McCarthy and his older sister Mary McCarthy both found careers in show business --Mary became a best-selling novelist, and Kevin became an actor after dabbling in student theatricals at the University of Minnesota. On Broadway from 1938 -- Kevin's first appearance was in Robert Sherwood's Abe Lincoln in Illinois -- McCarthy was critically hosannaed for his portrayal of Biff in the original 1948 production of Death of a Salesmen (who could tell that he was but three years younger than the actor playing his father, Lee J. Cobb?) In 1951, McCarthy re-created his Salesman role in the film version, launching a movie career that would thrive for four decades.
The film assignment that won McCarthy the hearts of adolescent boys of all ages was his portrayal of Dr. Miles Bennell in Invasion of the Body Snatchers (1956). Bennell's losing battle against the invading pod people, and his climactic in-your-face warning "You're next!, " made so indelible an impression that it's surprising to discover that McCarthy's other sci-fi credits are relatively few. Reportedly, he resented the fact that Body Snatchers was the only film for which many viewers
remembered him; if so, he has since come to terms with his discomfiture, to the extent of briefly reviving his "You're next!" admonition (he now screamed "They're here!" to passing motorists) in the 1978 remake of Invasion of the Body Snatchers.
He has also shown up with regularity in the films of Body Snatchers aficionado Joe Dante, notably 1984's Twilight Zone: The Movie (McCarthy had earlier played the ageless title role in the 1959 Zone TV episode "Long Live Walter Jamieson") and 1993's Matinee, wherein an unbilled McCarthy appeared in the film-within-a-film Mant as General Ankrum (a tip of the cap to another Dante idol, horror-movie perennial Morris Ankrum). Kevin McCarthy would, of course, have had a healthy stage, screen and TV career without either Body Snatchers or Joe Dante; he continued showing up in films into the early 1990s, scored a personal theatrical triumph in the one-man show Give 'Em Hell, Harry!, and was starred in the TV series The Survivors (1969), Flamingo Road (1981), The Colbys (1983) and Bay City Blues (1984).